Connect your appliances into the Kill A Watt™, and assess how fficient they are. A large LCD display counts consumption by the Kilowatt-hour just like utility companies. You can figure out your electrical expenses by the hour, day, week, month, even an entire year. Monitor the quality of your power by displaying Voltage, Line frequency, and Power Factor (via this website)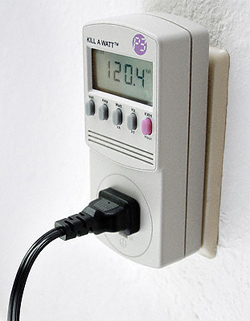 So how much you can save? see below information from getrichslowly:
Microwave (while dormant, simply displaying time): 2 watts — It costs us roughly $2/year to leave the microwave plugged in all the time.
Microwave (while heating a bowl of homemade bean soup for dinner): 2020 watts
Nintendo Wii (while playing Trauma Center: Second Opinion): 16 watts — Far less power than I would have guessed.
Strand of Christmas lights: 39 watts — More than I would have guessed. It will cost us roughly $3 to have this strand of lights plugged in during the Christmas season.
MacBook Pro (recharging with battery at 66%): 58 watts
Oil-filled radiator-style space heater: 520 watts on low, 820 watts on medium, and an unknown amount on high. I tripped the circuit breaker when I tried.
Dual-control electric blanket (one side set to three, the other turned off): 80 watts, declining by a watt every few seconds (presumably because it requires less power as it gets warmer — I don't know). I stopped watching after it had dropped to 58 watts.
Desk Lamp: 5 watts
Nighlight: 1 watt — Assuming the nightlight is on 12 hours/day, it costs about 50 cents to run for an entire year.
Find drawbacks and review about this machine by visiting this website getrichslowly.com